Graduate of the Hotel Management Course 2000, Graduate of Hotel Institute Montreux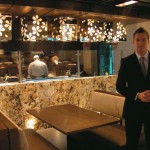 Απόφοιτος Hotel Institute Montreux
He has worked among other restaurants and hotels, in Kivotos Club Hotel Mykonos, Rodos Maris, Spondi, Milos Athens, Hilton, Nobu London Metropolitan Hotel, Matsuhisa Athens in Vouliagmeni Astir.

INTERVIEW
What made you want to get involved with hospitality studies?
After finishing school I worked at a small restaurant in Folegandros. I found this experience very interesting and so I decided to deal with this field of studies. Besides, during my military service I served as a cook, something that made me more eager to continue working in this field.
Why did you choose LE MONDE for your studies?
I was impressed by the expertise of LE MONDE Institute on the subject of tourism but also by the premises of LE MONDE which are specially designed to provide high level educational programs.
I also appreciated very much the administrative staff for the way they treated me during my studies. Also my professors, inspired me, guided me and advised me to pay more attention to the professional credentials that will derive from any professional experience than to the money earned in my effort to succeed.
Did you continue your studies abroad with the help of LE MONDE and if so, do you believe that this helped you in your professional career?
LE MONDE offered me the possibility of continuing my studies in Switzerland at the Hotel Institute Montreux – HIM, where I got a Hotel Management Diploma. I believe that continuing my studies abroad, helped me a great deal in my professional development. I think it is necessary for a student who has aspirations for a promising career to gain this experience. Maybe I should have stayed abroad, where I would have more opportunities.
What is your professional experience so far?
To begin with, I fulfilled my internship in Hilton, a really great experience for me. Then having worked in hotels in Mykonos and Rhodes, I returned to Hilton where I worked for a year and a half at the restaurant. I also worked for a time in the libations and the Island. Then I worked at Matsuhisa restaurant at the Belvedere Hotel in Mykonos. I was very pleased with the experience I gained there and so I stayed in the Matsuhisa restaurants group and having worked for some time in Matsuhisa London, I returned to Athens where I am now at the Matsuhisa restaurant in Astir Palace.
How do you evaluate your experience so far in the hospitality industry?
I like to offer my services so that people can have fun and enjoy themselves. It feels good to help others have a good time.
Which is your most important professional accomplishment so far?
I believe that LE MONDE provided me with quality education and the professional attitude required for taking on managerial responsibilities in the hospitality industry. It is a very responsible and difficult post and it requires a lot of work and many sacrifices.
In your opinion, which are the pros and cons of this profession?
The benefits will certainly include the fact that you work in very beautiful places, you socialize with many people and you make many acquaintances. Some of the negatives that this profession has include the lack of personal time.
Name some of the features that someone occupied in the hospitality industry should have.
Someone who really wants to work in this field should definitely be cheerful and smiling and be very eager to work!
Is there anything you would like to add?
I would like to thank Mr. Nick Velissaropoulos, Mr. Akis Velissaropoulos and Mrs. Sophie Velissaropoulos for helping me, especially when I wasn't working somewhere. LE MONDE Institute never gives up on its "children" especially when they are eager to excel. I appreciate very much the fact that LE MONDE has helped me many times, even in the most difficult phases of my professional path.