Chef in Hytra Restaurant "Michelin Star 2010″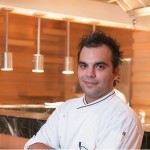 Graduate of the Chef Course 2003
INTERVIEW
Nikos Karathanos has been a graduate of LE MONDE Institute of Hotel & Tourism Studies, since 2003. Having a 10 year working experience in the field of gastronomy, he has worked in the team of Spondi, Varoulko and Pil-Poul. During the last 3 years he has worked as a Chef de Cuisine at Hytra restaurant and at Galazia Hytra , in Astera Vouliagmenis.
Being fond of the Mediterranean Cuisine, he has been trained near Martin Berasateaugi (3 times awarded with Michelin star) in San Sebastian and at "La Bastide Saint-Antoine" in the French Riviera at Grasse, near Jacques Chibois (2 times awarded Michelin star).
At the age of 29, he has been awarded a Michelin star.
What made you want to get involved with culinary arts?
I decided to become a chef, as soon as I graduated from high school. My father is a craftsman and wanted me to follow his profession, so when I told him about my ambition, he seemed disappointed. Now of course both my parents are very proud of me and the things I have accomplished.
During my studies at LE MONDE Institute I wasn't one of the best students in class. Courses gave me the basic knowledge while at the same time I tried to work, as I believe that practicing what you learn is very important. During my 2 years of studies I was working in order to be able to pay my tuition fees on my own.
Why did you choose LE MONDE for your studies?
After a period of research, I concluded that LE MONDE was the best choice.
Do you believe that this specific choice helped you in your professional course?
I believe that LE MONDE gave me the basic basis to begin with. My professor, Mr. Sintakas Kostas, helped me in my professional evolution. Though I am no longer his student, we maintain a good relationship and he is always there for me, like for example, when I need sous chefs I always call him for some recommendations, as I respect and relay on his opinion.
Despite your age, you have managed to excel in the field of gastronomy. Hytra, the restaurant you are currently occupied, during 2010 has been rewarded with a Michelin star. Which were, on your opinion, the most important steps that led to success?
Team work was for sure one of the most important things. It is important to set goals and believe in them. But, you have to work hard to maintain what you have accomplished.
Having this very important distinction what are your goals from now on?
The most important thing is for me and my family to be healthy and happy. Then, as far as my professional goals are concerned, I want to be able to retain the Michelin star, as it is easier to earn one than to retain one. Meanwhile, we are in search of a new place, as we have to adjust to the new financial standards. We want to create a menu which will contain a lighter and more economic lunch menu and maintain the gourmet character of the dinner menu. It is not easy nowadays for a restaurant to survive, serving only gourmet dishes.
What advice would you give to someone who wants to follow this profession?
My advice would be to be humble and listen carefully what older and more experienced people have to say. He must be armed with patience and will to succeed. He might find it helpful to keep notes of all the recipes and keep a good record of photographs. It is very important to write down things you think are important and will help you in your professional evolution. Do not be ashamed to ask questions, that's what I keep on telling my sous chefs all the time. At this point, I have to mention that becoming a chef has both its pros and cons. One of the advantages is the professional recognition. As a disadvantage, we could mention the fact that a chef is judged on a daily basis, something that is very stressful. Even if you have 35 satisfied clients and 5 not satisfied, a chef must understand and comprehend the reason of their dissatisfaction. A professional kitchen resembles a football team, where the chef is the coach….
Is there something else you would like to add?
I would really like to have collaboration with LE MONDE. I believe that it gives the basic and essential knowledge to every young person who wants to get professionally involved with culinary arts.