Sous Chef Monte Carlo Restaurant (Kifisia-Athens)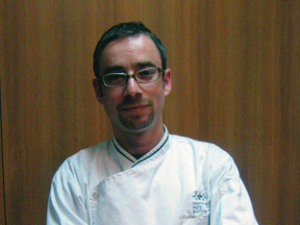 Graduate Chef 2008
INTERVIEW
Nikiforos Kambouropoulos graduated from LE MONDE Institute of Hotel & Tourism Studies in 2008. He gained his first working experience during his internship at the Hilton Hotel, in Athens. He continued to work at Hilton even after the completion of his internship, while at the same time, attended courses of his second year of studies. When he completed his 2 year course studies at LE MONDE, he attended a 4 month postgraduate program at the Institut Paul Bocuse.
He officially entered the professional arena when he worked at the Nicolas le Lec restaurant (awarded with 2 Michelin stars) and then at Alain Ducasse's group at Périgord, France. He is currently occupied as a sous-chef at Monte Carlo, in Kifissia.
Why did you choose to become a chef?
My father was in the catering business. He was a restaurant owner in France. I have been working with him since 1993, but at the parlor not in the kitchen. Therefore, since i was already in the catering business, I decided to get the necessary knowledge in order become a professional chef.
Why did you choose LE MONDE Institute of Hotel & Tourism Studies?
When I decided to get professionally involved with culinary arts, I did a research on the internet and LE MONDE really intrigued me, so I decided to visit its premises. My first impression was very good, tuition fees seemed reasonable, it has a well established reputation in tourism, hospitality and gastronomy sector, while it was the only Institute with emphasis on laboratory courses.
Would you say that your experience abroad helped you in your further professional career and in what way?
In France, working conditions are stricter; the kitchen is like a battle field. This "cruelty" really helped me. From LE MONDE I gained the basic knowledge in order to pursue my dream. At the Institute Paul Bocuse, there were students from different countries and therefore we could exchange our views on the different gastronomic cultures around the world.
What would you like to achieve in the gastronomy field?

Perfection! For me, the biggest joy comes from a satisfied client. His satisfaction is my reward. As far as my personal goals are concerned, so far I am pleased I managed to become a sous-chef. In the future I would like to be a chef in any restaurant in Greece (not necessarily mine) and manage to gain 3 Michelin stars for the restaurant.
Which would you consider to be the pros and cons of this profession?
The biggest advantage is the satisfaction you gain as the adrenalin rises when I cook! At this point, I would like to note that you have to really love this profession because working conditions can be really hard. Many working hours, heavy equipment, too much cold, a lot of yelling. Only if you love this profession you can succeed.
Is there anything else you would like to mention?
My opinion is that he who wants to excel, must travel. It is very important to experience different gastronomic cultures and broaden ones' mind.