Hotel Manager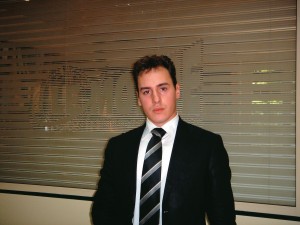 Graduate of the Hotel Management Course 2003
MA in Hospitality Management, BA of Hons Swiss Education Group (HIM)
INTERVIEW
How did you decide to study in LE MONDE Institute of Hotel & Tourism Studies?
Through my brother, who was already studying the Chef-Professional Food Production Course at LE MONDE, and gave me the opportunity to familiarize with the tourist industry. I was impressed by his profession and this made me want to get involved with the hospitality industry. I chose LE MONDE because I wanted to study hospitality at the highest level of professionalism. My brother is now working as a Chef in Los Angeles and I am preparing for my new professional challenge abroad.
What made you choose this course and how did you think it helped you in your professional evolution?
LE MONDE has provided me with a solid basis in order to stay on par with the competition. I've learned the importance of teamwork and the qualifications needed to become a successful hospitality manager.
What is your professional experience so far?
During my studies in LE MONDE I have fulfilled my internships at restaurants in Cyprus and Holland where I worked as an F & B manager. Great prospects emerged through people I met with during my studies in Switzerland.
Which is your most important professional accomplishment so far?
My studies, the knowledge I gained and the contacts I made with important people of the tourist industry. The best is yet to come … During my working experience, I collaborated with important people who were executives and managers in luxury and resort hotels, such as Ritz Carlton, Rosewood, Four Seasons, Royal Savoi, Jumeira, Compass. I am also a member of the International HCIMA (Hotel & Catering International Management Association).