On Wednesday 5th April 2012, students from our "hotel Management" course visited the "Kefalari Suites" and "Semiramis" Hotels escorted by professor Mr. Sarlis.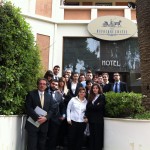 The " Semiramis" Hotel was designed by the famous designer Karim Rasheed and is mainly addressed to the modern traveler. The hotel combines aesthetics, comfort and practicality.
Students were shown around by the front office manager Mrs. Maria Papadakis. This was a unique experience as the hotel is a member of the Design Hotels, which are famous all around the world.
Visitors can see pieces of art form artists such as: Mr.Dakis Ioannou, Jeff Koons, Sue Webster and Tim Noble.
We would like to thank the management of the hotel for their guided tour and hospitality.